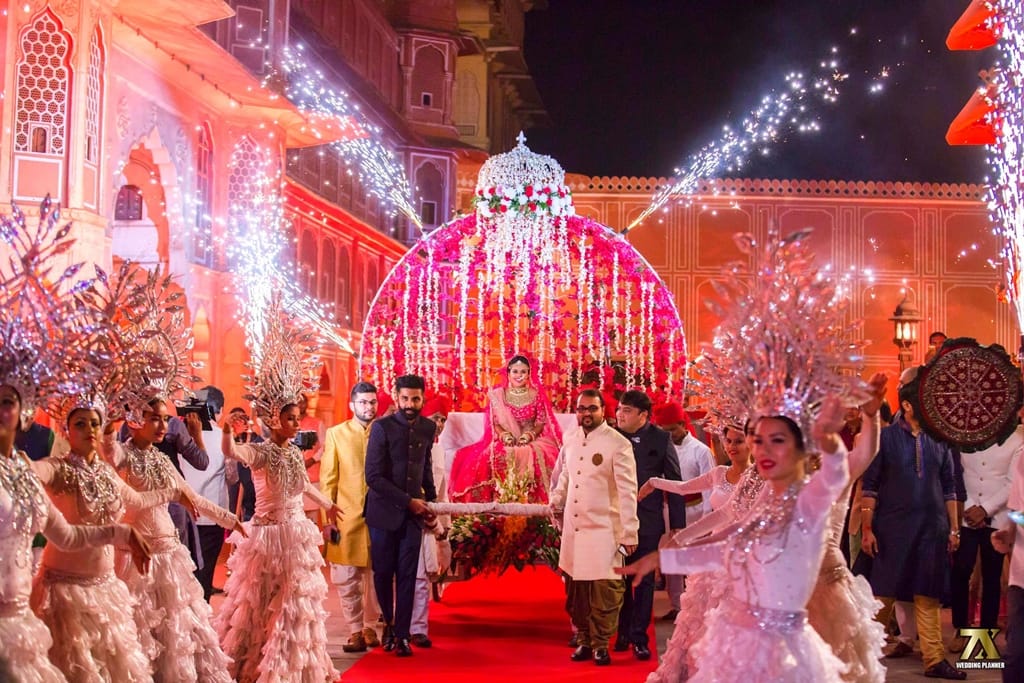 Dear Brides-To-Be, You Can Use These 'Hatke' Ideas For Your Bridal Entry
With time, the weddings have only become more profuse, and rather swanky. This has given way to the need of making some parts of the wedding extremely fascinating and exotic, the bride's entrance being the most sought after of them. Let's take a look at some of the unique bridal entry ideas for a dhamakedar entry!
1. Bridal entry under a chaadar
Remember Kalki's bridal entry in Yeh Jawaani Hai Deewani? She entered under a beautiful chaadar made of tealights. Make a stunning entry with your cousins and friends, under a chaadar made of lights and kaliras and let your face glow under that lighting.
Swag wali bridal entry on a bike or a vintage car
Be a hatke dulhan with hell lot of swag! Make a dashing entry at your wedding venue, either on a bike or in a vintage car with your toil. Enter the venue on a bike and see your groom's jaw drop in surprise! Because, why should boys have all the fun? You can obviously decorate your bike or car with loads of flowers and a quirky text board!
3. Enter the venue dancing with your girl gang
Sharmati hui dulhan entering her wedding venue is so old fashioned! Brides these days aren't shy, but bold and happy about their special day! Entering your wedding venue with full pomp and show, dancing to the tunes of dhol, nagade and shehnaiya. Ask your bridesmaids to join you in your crazy entry and see everyone jump with joy.
4. Royal Bridal entry like a princess
If a dulha can come on a white horse like a prince, to marry his bride, why can't she have a royal entry? Make a royal entry with haathi ki sawari, like princesses use to do for their swayamvar in olden days. Feel special on your special day and leave an impact on your guests for a lifetime. If you are comfortable entering the venue on an elephant, come on a beautifully decorated carriage.
5. Entering with your little flower girl
Little flower girls, announcing the arrival of the bride will surely be a cute sight for the guests. Dress up your niece as a flower girl, spraying petals on the floor before you take each step. Also, you can tell your nephew to hold a signboard that says, "Here comes the bride".
6. Beautiful and traditional palki for bridal entry
Another way of turning all eyeballs towards the bride is to make her sit in a beautifully embellished palki, while entering the wedding venue. Her brothers can carry their darling sister in the palki when she enters the new phase of her life. It is indeed going to be an emotional moment for the bride and her bhai.
7. Dhamakedar bridal entry with cold anar
One bedazzling idea that will involve the ladkiwalas present at the ceremony. Ask them to light up the phooljahdis or sparklers, in your honour, as soon as you enter the venue. Not only will the light of the sparklers give an astounding look to the entire ambience, but would also make the celebrations all the more beautiful.
8. Daddy's little girl
Nothing is more meaningful than walking down the aisle holding your daddy's hand, like a little girl. This is going to be one emotional moment for the bride as well as her father as the pain of separation will be quite visible on their faces. Walking with one of the most important men in your life towards another important man in your life is going to be very special.